THANK YOU West County Players & Parents!!!
Field Cleanup 2016
Many thanks to those who came to out work on Saturday! With over 50 people in attendance, it was an amazing show of community and support. Our fields are looking great and we couldn't have done it without YOU! Also - a huge shout-out to our Field Maintenance directors, Mike Maddocks and Mike Courts - thank you for your hand in organizing this day and for bringing the gator and quad, which made dragging the field a snap.
Click pictures below for larger images...
WCSA Sweatshirt Order Form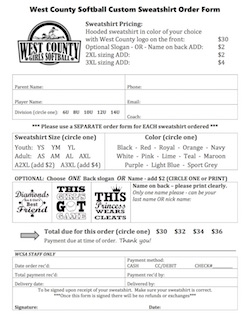 Show your West County Softball spirit - get your custom sweatshirt TODAY!
ORDER DEADLINE: ALL orders and payments must be received by February 29th!!! Orders received past this date will not make it to the printer in time.
Payment is due at time of order and please use a separate order form for each sweatshirt. Questions??? Email info@westcountysoftball.com.
Click HERE to print out the form.
Mail checks and completed order forms to:
WCSA Sweatshirt
P.O. Box 1373
Sebastopol, CA 95473


WCSA Player Clinic - March 6th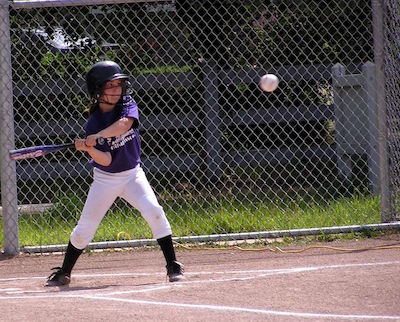 We are super excited to be teaming up with the fantastic coaching staff at Analy High and it's best athletes for a day of learning and FUN! This clinic is being offered to registered WCSA players only, and it is free!

Sunday, March 6th at Analy High Varsity Field
Clinic Schedule:
9-11 All-skills
11-12 Hitting
12-1 If staying for Pitching/Catching please bring a sack lunch
1-3 Pitching/Catching (OPTIONAL clinic for current or beginner pitchers and catchers).
ALL players are encouraged to attend. See you there!


Fastpitch Softball Private Pitching Lessons
My name is Saja Spearman-Weaver. I've been pitching for Analy Varsity Softball and offering private pitching lessons for three years. I work with girls on fundamentals, base building, and mentality. I try to convey a philosophy of clear-minded pitching, control, and fearless throwing. I'm also a strong advocate for success in the classroom alongside success on the field, and I believe one often leads to the other.

Lessons are $20 per half hour, or $30 per hour. Lessons will take place at the Analy Varsity field. An adult willing to catch should accompany the pitcher.

Please contact me via text or email to set up lessons.

Cell: 707 303 5900
Email: paintandsink13@gmail.com
---
WCSA Operating Guidelines
The WCSA Board has adopted guidelines for how the league operates, covering all aspects such as skills assessment, attitude & conduct, game rules, player and coach and fan responsilities, and much more. Click to view the WCSA Operating Guidelines
---
Join our Email List
Stay informed on events and activities at WCSA. Sign up here to receive occasional emails.
---
Board Meetings
Check Upcoming Events to the right for the next meeting.
All are welcome - we value your contributions and encourage our WCSA community to attend!